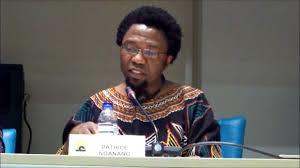 Prof. Patrice Nganang Charged For Insulting Cameroon's President Biya
Prof. Patrice Nganang who was arrested on December 7 has been charged with the crime of insulting Cameroon's president- Mail Online has reported.
Patrice Nganang, professor at New York's Stony Brook University would appear before a prosecutor in the days ahead. He was taken at the airport on his way to join his wife in Zimbabwe.
Read: Prof. Patrice Nganang,Cameroonian-American is Arrested
Nganang's charges include an allegation of insulting Cameroon's president Paul Biya as well as issuing a death threat.
At the hearing, Nganang's lawyer said his client did not seem violent because he had never worked with any violent or armed group and has remained a peaceful activist.
Several actions have been taken to ensure his release and the Cameroonian media has been persistent on his arrest.
Many even contemplate calling the Cameroon embassy to demand his release or getting to the US delegations as well as other international bodies to ensure his freedom.