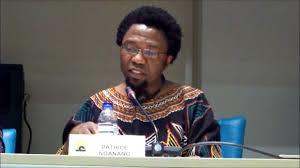 Prof. Patrice Nganang Charged For Insulting Cameroon's President Biya
Prof. Patrice Nganang who was arrested on December 7 has been charged with the crime of insulting Cameroon's president- Mail Online has reported.
Patrice Nganang, professor at New York's Stony Brook University would appear before a prosecutor in the days ahead. He was taken at the airport on his way to join his wife in Zimbabwe.
Read: Prof. Patrice Nganang,Cameroonian-American is Arrested
Nganang's charges include an allegation of insulting Cameroon's president Paul Biya as well as issuing a death threat.
At the hearing, Nganang's lawyer said his client did not seem violent because he had never worked with any violent or armed group and has remained a peaceful activist.
Several actions have been taken to ensure his release and the Cameroonian media has been persistent on his arrest.
Many even contemplate calling the Cameroon embassy to demand his release or getting to the US delegations as well as other international bodies to ensure his freedom.
This slideshow requires JavaScript.
This slideshow requires JavaScript.
Because You're Here ...
Since 2017, we have staked our lives and time to provide tailor-made news reports to our readers from war zones and hot political rivalries in Cameroon - And we have done so for free.
As a small online media now reaching over 100,000 monthly readers on all our platforms, we have to rely on hiring/paying members to help keep you all informed. We do this because we believe it is the right thing to do at this time in Cameroon.
We have received many comments from supportive readers asking how they can contribute. The best way is simply to support our online reporting by considering a measly sum for our team on the ground as little as $1.
Every contribution, however big or small, is so valuable for our future. Now you can make a donation to us, it only takes one click
Kind regards,
Arrey