Frank Ugochukwu Edward was born on July 22, 1990. He is a gospel singer specialized in Christian Hip hop and urban contemporary gospel. Born into a family of seven, Rich Boy as he is famously known has been a blessing to the music world. Frank portrayed interest in music right from childhood, as at an early age of 7, playing the piano at home. He grew to perfect his finger skills and now plays on one of the world's largest stages.
The star shares his story and how he rose to stardom. His initial dream was to become a pilot but found himself singing because his pastor sings as well. He is dedicated member of Christ Embassy where he serves as pianist to the great minister, Pastor Chris Oyakhilome PHD whom he holds in high esteem.
Frank Edward believes Pastor Chris actually inspired him to do what he does. TIN MAGAZINE published his reply when asked how he got the luck.
"Before my first album, I never stood in front of two people to sing not to talk of the whole church; I never held the microphone in the church to lead the choir in the choir rehearsal not to talk of Sunday service. Nobody gave me that opportunity, but I was working underground, just recording my not even for an album. I suggested to people and they rejected so I was just trying them out myself, I didn't plan to make an album. People hear one song, it is nice, record another one and I did, before you know it the songs that I recorded got to pastor Chris table without me knowing . In one global service,December 31st night I was there as a keyboardist sitting down when Pastor Chris came out preaching then he walked towards me and whispered to me "that your song that I heard are you ready to sing it now?". My heart just flew because I had never held a microphone in the church before and here I am, being asked to sing to the whole world, I just started sweating immediately, I didn't know when I nodded my head to say yes, I think my head moved on its own, then he asked if the sound department had my soundtrack and I said I don't know, he sent someone to go and ask, and I was just hoping that they should say they don't have it and the guy came back and said it was there! He gave me the microphone, the first time anybody ever gave me a mic to sing was in front of the whole world and it is not that I had started going for programs; just in the studio doing my thing. I sand and didn't know what took over me. Later I watched the video and people lifted their hands up, some on the floor, even pastor was singing it word for word which means he has been listening to it, from that night in fact, my Facebook page was jammed and that was my turning point."
He rose to fame by Divine Intervention or should I say he was in the right place at the right time doing the right thing as expected of him. Today he has numerous hit songs that have continued to enjoy massive airplay in churches and beyond Nigeria shore. Some of his songs includes, You too dey bless me, Omema , Mma Mma, which are constantly sang in bars and night clubs. He is a role model and inspiration to the youths.
.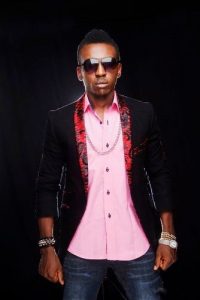 Producing his songs under his world class Record Label, christened "ROCKTOWN", the young multi-talented artist has been celebrated for revolutionizing Nigerian Gospel Music, introducing a new and exciting twist with his new blend of rock, fused with a little pop and Fuji.
He is currently known as Nigeria's hottest Gospel rock artist, a genius producer and master mixer. He owns ROCKTOWN Records which has a generation of upcoming talents.
Edwards is credited with various nominations including The NEA Awards 2009, The Nigerian Gospel Awards 2012, Best Gospel Artist West Africa Award and his recent Love World Awards in 2012 worth over $10,000 for the release of "Superstar No.1".
Frank, rumor says was engaged Chisom in 2012 who was 19 schooling in the States. When fans learnt of it, he was criticized for getting engaged to a girl of 19. Lately, he has been linked with Sharon Oyakhilome, pastor Chris's daughter .it's been said by many that they are dating.
LEAVE A COMMENT BELOW, PLEASE FOLLOW US ON SOCIAL MEDIA
Since 2017, we have staked our lives to provide tailor-made news reports to our readers from war zones and hot political rivalries in Cameroon - And we do so for FREE. As a small online media now reaching over 100,000 monthly readers on all our platforms, we have to rely on hiring a small team to help keep you informed The best way to support our online reporting is by considering a measly sum for our team on the ground as little as $1. Now you can make a donation to us below, it only takes one click...