Cameroon's minister of Higher Education, Jacques Fame Ndongo has appointed the minister of Small and Medium Seize Enterprise, Laurant Serge Ngoa as head of department at the faculty of Medicines and Biometric Sciences in the University of Yaoundé 1.
This has come as a very big shock to Cameroonians who wonder how a minister will appoint his fellow colleague to a lesser post of responsibility.
Cameroon Concord writes, doubting the fact that Fame Ndongo did not know that Laurent Serge has been a minister in Cameroon since the year 2006.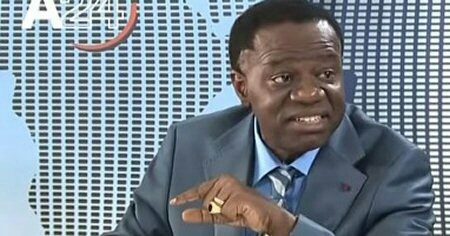 In the same communiqué, Prof. Fame Ndongo appointed Dr. Saddi Tengeleng as head of the Information and Telecommunications Department.
Dr. Saddi is no more after he died five months ago in Maroua. Many therefore wonder the possibility of appointing first a fellow minister and second a deceased person.
More updates on ARREYB right ahead. Leave a comment below!
Since 2017, we have staked our lives to provide tailor-made news reports to our readers from war zones and hot political rivalries in Cameroon - And we do so for FREE. As a small online media now reaching over 100,000 monthly readers on all our platforms, we have to rely on hiring a small team to help keep you informed The best way to support our online reporting is by considering a measly sum for our team on the ground as little as $1. Now you can make a donation to us below, it only takes one click...