In response to the World Bank, President Yoweri Museveni has said that his country will advance with or without its assistance.
This comes after the Washington DC based bank declared on Tuesday that it will stop making any new loans to Uganda due to the nation's stringent anti-LGBTQ laws.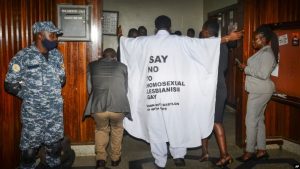 The president believes it is unfortunate that the bank is pressuring people to deny their faith, culture, ideals, and independence out of a desire for financial gain.
He went on to claim that the West seriously undervalues Africans and that the continent doesn't require outside pressure to fix its problems.
The anti-homosexuality law that President Museveni signed in May 2023 provides a 20-year prison sentence for advocating homosexuality and the death penalty for aggravated homosexuality.
According to Museveni, the World Bank is being forced to outrightly adopt such measures.

Since 2017, we have staked our lives to provide tailor-made news reports to our readers from war zones and hot political rivalries in Cameroon - And we do so for FREE. As a small online media now reaching over 100,000 monthly readers on all our platforms, we have to rely on hiring a small team to help keep you informed The best way to support our online reporting is by considering a measly sum for our team on the ground as little as $1. Now you can make a donation to us below, it only takes one click...