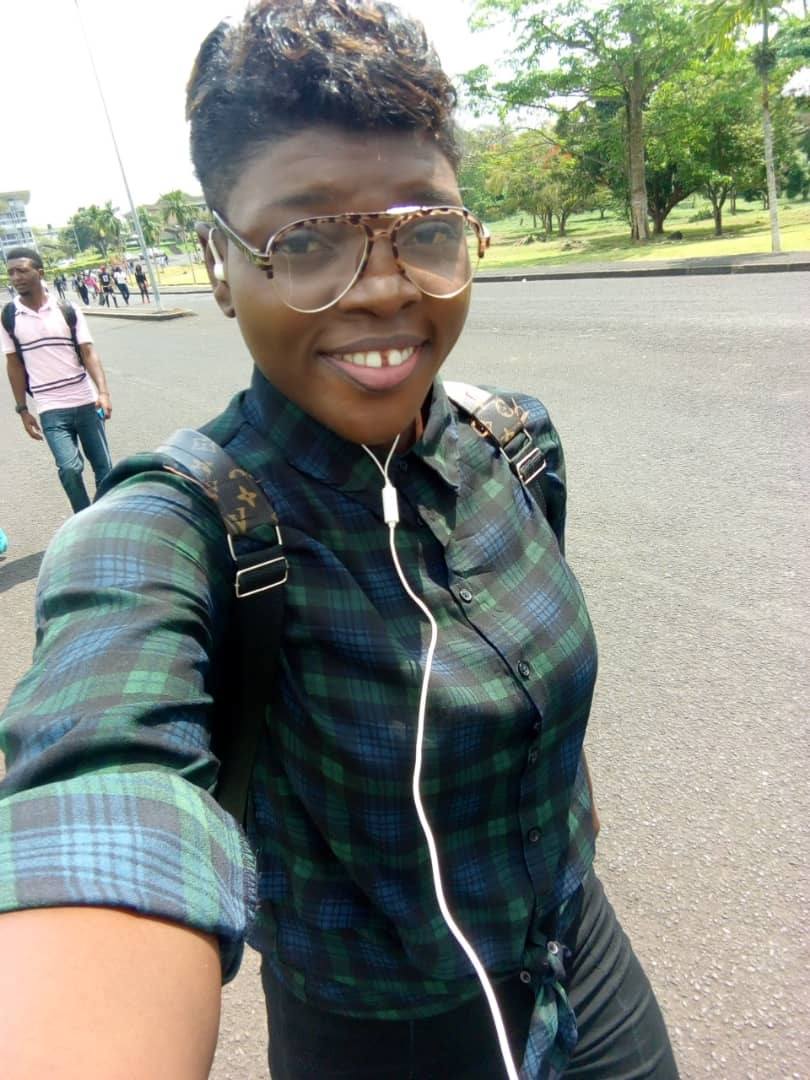 [Poetry]Award Winning Cameroonian Poet, Ngong Sandra On "The Black African Girl", A Proud Black African Read
By Ngong Sandra Nyangha
I am the black African girl
Redicule cannot sway me
I hold my head high and proud of my uniqueness
Proud of my culture and heritage
From the colour of my skin,
To the texture of my hair
To the length of my strands to
The breathe of my smile
The stride of my gait,
To the span of my arms,
The depth of my bossom
To the curves of my hips
I remain the proud African girl…
To you I'm dirty
To you I'm no different from an animal in the zoo.
You stare at me and wonder why my hair isn't soft
Why my accent is so strong
Why there's a gap between my front teeth.
You stretch your hands to touch my hair with total disdain
You comprehend not the reason for my thick skin and hips
You think the absence of blue eyes is a curse
And my kinky hair a kind of ugly.
You use the colour of my skin to talk about evil, pain, misfortune but I still flaunt it with no worries
You think I'm dumb and always wrong
You minimise my intelligence to potential
And consider my success accidental
To you, I'm always "too" or "less"
For you think balance isn't for our kind
But I am strong and confident. Obstacles cannot stop me..
This slideshow requires JavaScript.
This slideshow requires JavaScript.
I am black,
I am African
You can never be, that's how we differ
We love the setting sun and the moonrise ushering us into folktale telling.
Hospitality is our fort
We let not anyone pass, without offering a bowl of water
We all are brothers, reason our mother tongues don't have a translation of cousin, nephew, neice etc
You think I should be like you,
You try to teach me everything
How to drink tea
How to eat the food I prepared,
How to tie my hair together
How to walk
How to tell my story, as if you lived the experience
We have our culture, our lives, our ways, our history, let us tell it!!!
Force not your ways into us for we are us and proud.
You chained and shipped our brothers but their dream like ours never died. That's the power of the colour.
Before calling us animals
Remember your children suckled from our mother's breast..
That our brothers worked and built the land and wealth you possess
How you chained, raped raped and raped our sisters though with wives back home
Your eyes never got off the melanin skin and your corrupt self running with gifts, threats, milder treatment in slavery in exchange for the body. Who craves for "animals" as such??
I am black.
Take it that way for each body has it's art
It's precious prescribed pose
That even in push or pain,
Or when grief has stabbed
And hatred hacked, it is it's and no one else's…
And so today, I speak it loud and unabashedly,
I declare it anew, I AM BLACK, PROUD AND BEAUTIFUL…
About The Author:

Ngong Sandra Nyangha is a post graduate student of African literature in the university of Buea.
She is a creative writer paying much attention to poetry, short stories and script writing.
She sometimes serves as a spoken word artist in events under the canopy of Noela lyonga foundation where she is a volunteer. Sandra was one of the winners of the young Cameroonian Writers' Award in 2015 and has a good number of unpublished poems and short stories.
She's soon starting a YouTube channel for spoken word poetry.
Contact: +237 670091895
Email: nyanghasandy@gmail.
Because You're Here ...
Since 2017, we have staked our lives and time to provide tailor-made news reports to our readers from war zones and hot political rivalries in Cameroon - And we have done so for free.
As a small online media now reaching over 100,000 monthly readers on all our platforms, we have to rely on hiring/paying members to help keep you all informed. We do this because we believe it is the right thing to do at this time in Cameroon.
We have received many comments from supportive readers asking how they can contribute. The best way is simply to support our online reporting by considering a measly sum for our team on the ground as little as $1.
Every contribution, however big or small, is so valuable for our future. Now you can make a donation to us, it only takes one click
Kind regards,
Arrey