Africa's premiere networking platform, The Returnees Project Inc., is showing Africans how to beat the solitude moments of quarantine and build successful and lucrative careers while in confinement.
The year 2020 kicked off brilliantly but soon found itself facing an invisible global enemy and an unprecedented crisis.
The globe was forced into a lockdown to curb the spread of the very deadly and rapidly spreading novel Coronavirus.
At moments like these, many people turn to the silent heroes within them.
It is thus that the dream team of The Returnees Project believes and shows how smart ones amongst us see this as an opportunity to explore their skills and talents learning from pacesetters of our generation!
A dynamic team located in over 10 diaspora countries and some African countries led by Miranda OBEN, German based engineer, host, beloved wife and loving mum now champions a daily Facebook online series featuring seasoned entrepreneurs, health experts and change makers cutting across the world and in different fields.
With her equipe; the Dream Team as fondly referred to by viewers; Miranda has hosted visionaries who share their strategies to battle with the downcast effects of the shutdown, and how to remain safe and especially productive while exploring new opportunities of growth, success and financial gains.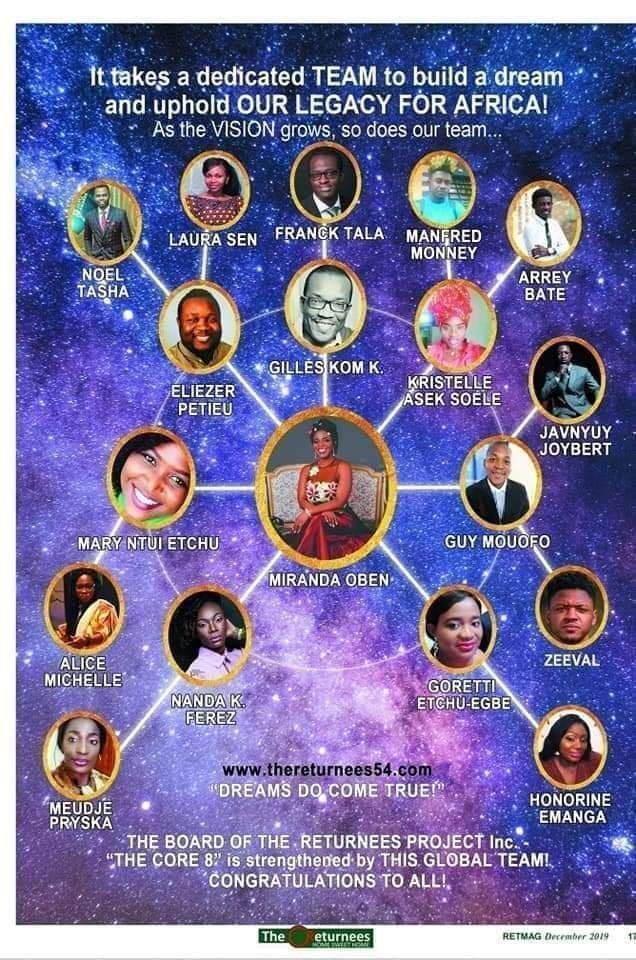 "Ensure that you and yours stay safe, be laser-focussed, follow the WHO guidelines; then the next important thing is to use these moments of solitude to enjoy family time as you build the pillars of your life with the new reality we face. As an IT expert, I continue to advocate for digitisation and how much money you can make through online marketing! Use top-notch branding and communication to sell your skills and talents online…" cautions Miranda OBEN in a statement which challenges entrepreneurs to think positively
So far, the lively sessions have pulled a wide audience and hosted many highly revered sons and daughters of Cameroon, Ghana, Nigeria and more lined up.
Visit The Returnees Project facebook page to know what Roland Kwemain, Barrister Agbor Nkongho, Dr T.J. Formambuh, Dr. Nkeng Stephens, Christian Ngan, Gabriele Zillmer, Françoise Kom, Marie-Angele Abanga, Eric S. Bannav, Pamela Happi, Batupe J. Shefa, Arrey Bate, Divine Winter and a host of other leaders in different fields are doing to cope with the pandemic experience while reshaping their thought-patterns.
This new initiative, highly empowered by the Returnees Core Team, was to challenge young Africans despite the crazy realities of Africa to remain resilient in this phase of the world pandemic.
The umbrella organisation, The Returnees Project Inc., prides itself of international conferences bringing together great men and women from diaspora and motherland.
It is an initiative set up in 2016 by Cameroonian award winning IT Engineer and multilingual German based presenter, Miranda OBEN
The platform seamlessly bridges the gap between the diaspora and home, encouraging "Returnees" to invest back home as one of the many avenues pursued under its mission and vision.
The team gathers together hundreds; CEOs, businessmen, entertainers and entrepreneurs from Cameroon and the diaspora online and offline throughout the year.
Working tirelessly with partners in different walks of life, the platform is usually marked by exclusive conferences with B2B, B2C and B2G networking and has the past years rewarded and awarded visionaries and unique thought-leaders in Cameroon.
Tune in on The Returnees series and meet the amazing guests daily at 6pm (GMT+1) Cameroon.
Contacts:
FB: The Returnees Project Inc.
Website: www.thereturnees54.com
Email: info@thereturnees54.com
Tel: +237-699-989-474
The Returnees Event: December 18th, 2020 in Douala-Cameroon.
Since 2017, we have staked our lives to provide tailor-made news reports to our readers from war zones and hot political rivalries in Cameroon - And we do so for FREE. As a small online media now reaching over 100,000 monthly readers on all our platforms, we have to rely on hiring a small team to help keep you informed The best way to support our online reporting is by considering a measly sum for our team on the ground as little as $1. Now you can make a donation to us below, it only takes one click...