Ghana's prolific sports journalist and story teller, Owuraku Ampofo will be speaking alongside other top notch speakers at the upcoming Afrikan Entrepreneurs Summit, organized by Cameroonian internet entrepreneur and journalist Arrey Bate
The journalist who reports for Joy News Ghana is one of the most prominent and inspiring speakers that many are looking forward to hearing his story
The AB Afrikpreneur team announced on their website that Owuraku will grace the event to speak on the topic "Stories From A Former Soccer Player: How Owuraku Built A Facebook Verified Brand With Thousands & One Of Ghana's Most Trusted Sports Platforms"
The Ghanian journalist and story teller will be speaking along side other international speakers like Adela Grigore, ecommerce Expert from Romania, Enoh Eyong, former vice-captain of the Cameroon football national team, Atabong Jovette and a host of other high profile entrepreneurs from Nigeria, UK and Cameroon
The event is hosted by Cameroonian internet entrepreneur and journalist, Arrey Bate, who is founder of ARREYB Media. Every year, the AB Afrikpreneur team brings together entrepreneurs of all walks of life and seeks to bring successful persons to share their stories in their various domains. This year's edition, Arrey announced, will be a LIVE event as the team is rebuilding
The free two days event, starts from Saturday December 18 to Sunday 19 as from 5pm GMT and will see participants gain knowledge on modern day business secrets and how to use these secrets to grow their own businesses.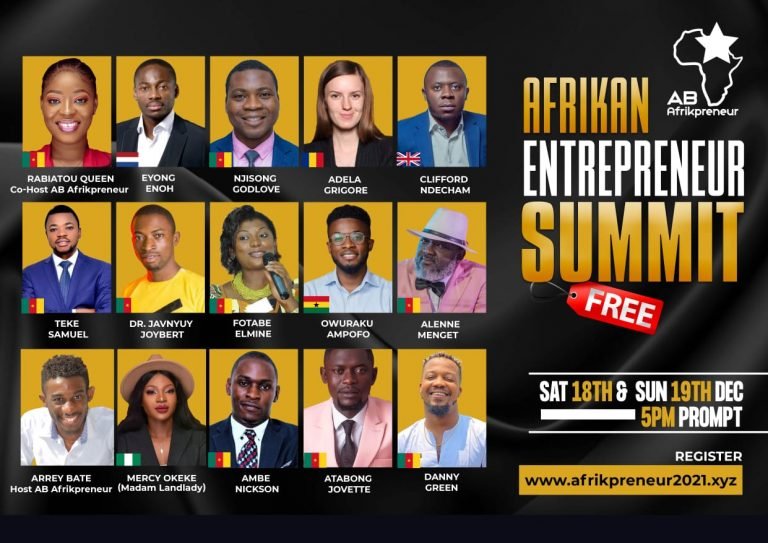 Owuraku was formerly a footballer. He later moved to sports reporting and data journalism in 2018.
In 2019, he was recognized as one of the top 100 young journalists in the world by the British Council. He also won the Ubora Sports Man of the Year during his time at Ashesi University.
Since 2017, we have staked our lives to provide tailor-made news reports to our readers from war zones and hot political rivalries in Cameroon - And we do so for FREE. As a small online media now reaching over 100,000 monthly readers on all our platforms, we have to rely on hiring a small team to help keep you informed The best way to support our online reporting is by considering a measly sum for our team on the ground as little as $1. Now you can make a donation to us below, it only takes one click...