A lot of Cameroonians may not have understood him but when Prophet A.O Kingsley openly declared two major events that have come to pass in Cameroon, many tagged him another 'hungry prophet'
On September 10, 2019, we published an article which was a prediction of what will happen in Cameroon.
On Facebook, prophet A.O Kingsley while declaring a new era for Cameroon, said he saw a vision where Samuel Eto'o became president.
"I had a vision from the LORD and I saw Samuel Eto'o as the next president of the republic of Cameroon, the president of CAF and vice president of FIFA. I am the prophet for his next level." – Prophet Kingsley wrote
When we asked the prophet if he had fears of sending out such daring messages knowing the repercussion if these words do not come true, the prophet insisted he heard God and decided " to speak as he was led"
In fulfilment of his prophesy, on 11th December 2021, Samuel Etoo Fils was elected the new president of the Cameroon Football Federation. The former indomitable lions captain received 43 votes out of the 74 delegates and was sworn into power
On September 22, 2021, the prophet again prophesied calamity for the reality TV show Biggy 237 which was going on at the time. As seen from a screenshot below, the prophet said he received hundreds of insults for writing out his prophesies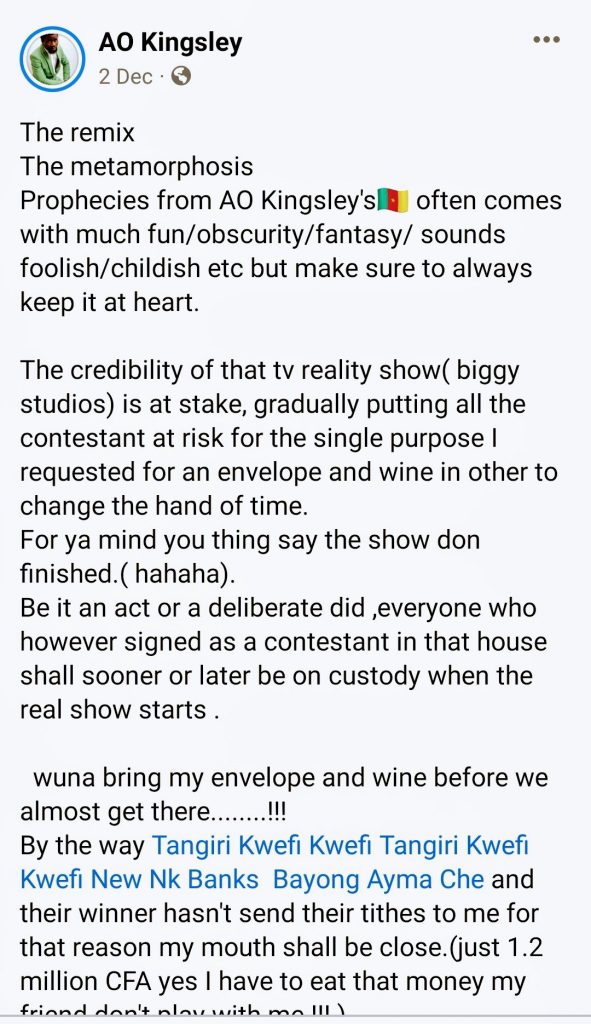 On Friday morning December 24, news of the death of Fhish Lesly, 2021 Biggy 237 winner broke the internet.
Reports say Fhish and his manager got into a fatal accident on their way to Buea for a show.
While the news is still a shock to many who have been sharing last moments on social media, a few people have gone back to share the words of the prophet
A.O Kingsley has continued to share prophecies on Facebook, some of them have been too crazy to believe but the Cameroonian public has seen two of his prominent warnings come true
When we put a message through to him, the Prophet insisted he heard God, noting that he had prophesied other occurrences in Cameroon which came true. Prophet A.O Kingsley has added that God is about to start a new era in Cameroon
Since 2017, we have staked our lives to provide tailor-made news reports to our readers from war zones and hot political rivalries in Cameroon - And we do so for FREE. As a small online media now reaching over 100,000 monthly readers on all our platforms, we have to rely on hiring a small team to help keep you informed The best way to support our online reporting is by considering a measly sum for our team on the ground as little as $1. Now you can make a donation to us below, it only takes one click...