Two of the most prominent telecom providers in Cameroon, MTN and Orange are facing resentments from thier users due to poor mobile services offered and over high cost.

Several disgruntled users intend to carry out a boycotting campaign known as "Operation flight mode". The campaign will take place this Monday April 24, 2023.

Orchestrators of this campaign have alerted other users in and out of the country using MTN and Orange services to set thier phones on airplane mode between midday and 2pm Cameroon time.

To them, this is to show discontent for the excesses showcased by the telecom service providers that has put them in difficult situations.

Celebrities and influences alike have shown thier support for this boycott while also calling on thier fans and followers to join the action.

Emy Dany Bassong, a renowned actress and producer said on her Facebook page: "Lets all go on flight mode this Monday between midday and 2pm. It is unacceptable that in our own country, we suffer a merciless price increase. Stop to all operators who are not making anything easier for us."

Honorable Cabral Libii equally took to his account on Twitter to state his full support for the campaign.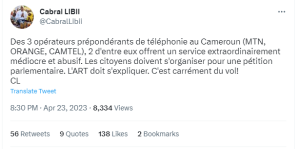 Diane Mekongo, a comedian and actress wrote on her social media pages that "We're fed up with your outrageous theft, your flippancy and your silence regarding the complaints of your subscribers. You will learn to respect us if our authorities do not want to speak out, we will force you to respect us. It's over."

Fingers remained crossed to see how the Telecom services providers react to the recent outburst of it's users.


It is a situation that has not been welcomed by many especially with the present socio-economic predicaments of the Country.

Orange and MTN have been offering mobile services in Cameroon since 1999 and 2000 respectively.
Since 2017, we have staked our lives to provide tailor-made news reports to our readers from war zones and hot political rivalries in Cameroon - And we do so for FREE. As a small online media now reaching over 100,000 monthly readers on all our platforms, we have to rely on hiring a small team to help keep you informed The best way to support our online reporting is by considering a measly sum for our team on the ground as little as $1. Now you can make a donation to us below, it only takes one click...