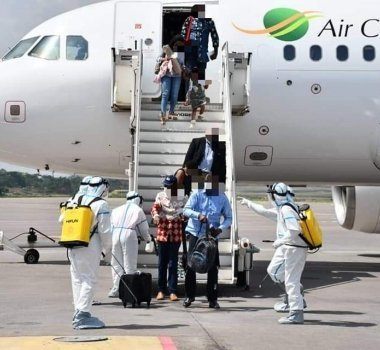 Covid-19: 97 More Cameroonians Fly Home After Weeks Stranded Abroad
97 more Cameroonians who were stranded abroad due to Covid-19 have landed in Cameroon early today
Their return is part of the second phase of repatriation of citizens stuck in North America, France, Sao Tome and other European countries.
Cameroon's authorities started the second phase of repatriation for its citizens stuck abroad, beginning with Dubai on May 10. 152 citizens landed at the Nsimalen airport in Yaounde.
This slideshow requires JavaScript.
This slideshow requires JavaScript.
On Tuesday May 12, 2020, another group arrived at Nsimalen through Ethiopian Airlines, received by the Minister of Transport, Jean Ernest Massena Ngalle Bibehe.
"These concerns brought to the attention of the head of state, so he decided to organize the repatriation of the 668 compatriots as soon as possible" the minister praised the president
Prior to their repatriation, government said it had set conditions for them to abide by, including compulsory Covid-19 tests and quarantine measures.
In One of the consignments, two citizens were tested positive and quarantined at Olembe Quarantine House, Charlotte Mousi, the Center's health regional delegate said
"We tested them and results were given immediately. Those who were tested negative will continue confinement at home, but we will be recontrol 14 days later" she said
The repatriation began after President Paul Biya ordered the return of Cameroonians who had been stranded abroad due to Covid-19 on April 26, as announced by The Consul General of Cameroon to Dubai.
According to recent updates, Cameoon now sits as the 7th most hit African country with 2,689 Covid-19 cases, 1,524 recoveries and 125 deaths.
Because You're Here ...
Since 2017, we have staked our lives and time to provide tailor-made news reports to our readers from war zones and hot political rivalries in Cameroon - And we have done so for free.
As a small online media now reaching over 100,000 monthly readers on all our platforms, we have to rely on hiring/paying members to help keep you all informed. We do this because we believe it is the right thing to do at this time in Cameroon.
We have received many comments from supportive readers asking how they can contribute. The best way is simply to support our online reporting by considering a measly sum for our team on the ground as little as $1.
Every contribution, however big or small, is so valuable for our future. Now you can make a donation to us, it only takes one click
Kind regards,
Arrey