A bill has been brought before the Cameroon Parliament seeking to prosecute and punish perpetrators of hate speech and tribalism in Cameroon.
Suggested in the ongoing November parliamentary session, the bill seeks to modify law No. 2016/007 of July 12, 2016 of the Cameroon penal code and is similar to a recently passed decree by the Nigerian Parliament (MMI observed).
Tagged "National Commission For the Prohibition of Hate Speeches" the Nigerian bill was adopted by the upper legislative chamber.
This slideshow requires JavaScript.
This slideshow requires JavaScript.
It stipulated: "Any person who commits an offence under this section shall be liable to life imprisonment and where the act causes any loss of life, the person shall be punished with death by hanging."
On offences like harassment on the basis of ethnicity, racial contempt, the bill proposes not less than five-year jail term or a fine of not less than N10 million or both.
"A person who uses, publishes, presents, produces, plays, provides, distributes and /or directs the performance of, any material, written and/or visual which is threatening, abusive or insulting or involves the use of threatening, abusive or insulting words or behaviour commits an offence if such a person intends thereby to stir up ethnic hatred, or having regard to all the circumstances, ethnic hatred is likely to be stirred up against any person or person from such an ethnic group in Nigeria."
Set in the heat of the Anglophone crisis and other ethnic crisis, the Cameroon bill does not set a death penalty. Victims will rather be given a sentence ranging from 6 days to 6 months in prison or a fine up to 500.000FCFA.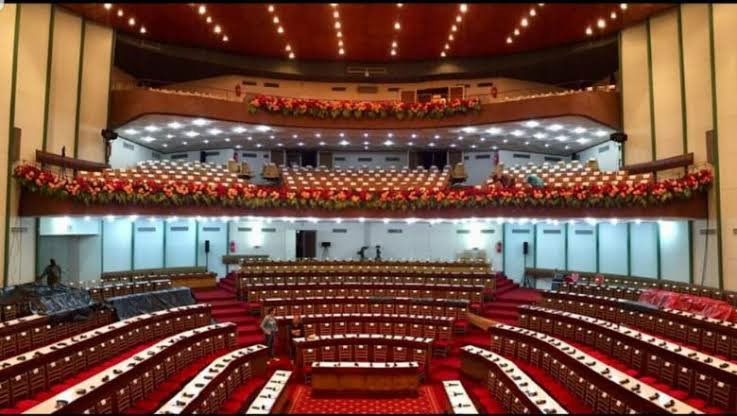 Cameroon parliament
The bill criminalises and punishes the act through the amendment of section 241 of the penal code and has been defended by the Minister of State, Minister of Justice, keeper of the seals, Laurent Esso before the commission on Constitutional laws. It includes those in public offices.
Because You're Here ...
Since 2017, we have staked our lives and time to provide tailor-made news reports to our readers from war zones and hot political rivalries in Cameroon - And we have done so for free.
As a small online media now reaching over 100,000 monthly readers on all our platforms, we have to rely on hiring/paying members to help keep you all informed. We do this because we believe it is the right thing to do at this time in Cameroon.
We have received many comments from supportive readers asking how they can contribute. The best way is simply to support our online reporting by considering a measly sum for our team on the ground as little as $1.
Every contribution, however big or small, is so valuable for our future. Now you can make a donation to us, it only takes one click
Kind regards,