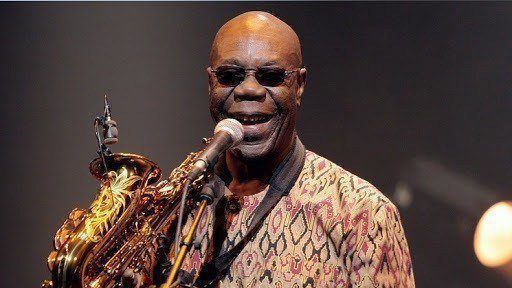 Death Of Music Icon Manu Dibango?
Social media ran wild when news broke about his death
Shock gripped Cameroonians to hear that music legend Emmanuel N'Djoké Dibango (Manu Dibango) was no more
But Debango has not 'left'
This slideshow requires JavaScript.
This slideshow requires JavaScript.
He was only admitted and his doctors say he is gradually responding to treatment.
Early in March news broke that the music icon tested positive for Coronavirus
"Dear audience,dear friends,
We would like to inform you that further to a recent admission in hospital linked to Covid 19, Manu Dibango is resting well and calmly recovering.
He kindly asks you to respect his privacy.
He can't wait to meet you again soon, and in those troubled times we all go through, wants you to take very good care of yourselves.
Warmly !" – a message on his Facebook page read
Dibango is still alive
He is a Cameroonian musician and songwriter who plays saxophone and vibraphone. He developed a musical style fusing jazz, funk, and traditional Cameroonian music.
Born in Douala, Cameroon, in 1933, Dibango is best known for his Grammy Award-winning track Soul Makossa.
The song topped the charts in 1973 and went on to be sampled by various musicians including late King of Pop Michael Jackson and US-based popstar Rihanna.
Because You're Here ...
Since 2017, we have staked our lives and time to provide tailor-made news reports to our readers from war zones and hot political rivalries in Cameroon - And we have done so for free.
As a small online media now reaching over 100,000 monthly readers on all our platforms, we have to rely on hiring/paying members to help keep you all informed. We do this because we believe it is the right thing to do at this time in Cameroon.
We have received many comments from supportive readers asking how they can contribute. The best way is simply to support our online reporting by considering a measly sum for our team on the ground as little as $1.
Every contribution, however big or small, is so valuable for our future. Now you can make a donation to us, it only takes one click
Kind regards,
Arrey