The UN High Commissioner for Refugees has on March 9, 2018 published a report on the refugee situation in Nigeria.
The reports show that from the 1st to 8th of March, about 2,501 Cameroonian asylum seekers have been registered in Benue state (towns of Kwande and Odukpani).
So far, a round up figure of over 20,300 persons have migrated to neighboring Nigeria since the start of the Cameroon Anglophone crisis.
The crisis which started in October 2016 has led to several injured and many dead. The Anglophone regions continue to face the extension of a curfew period in the North West and South west Regions which restricts the movement of people after 9pm.
On March 8, officials of Cross River State allocated some land for the construction of a settlement in Okoja to host up to 10,000 Cameroonian asylum seekers.(Relief Web)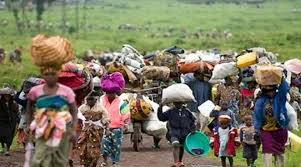 This is part of commitments by Nigeria to support UNHCR move the asylum seekers about 50 kilometers away from the border in line with international protection principles.
A joint team of UNHCR and state government officials including the Cross River State Land Commissioner was expected to visit the site on March 9, for a formal handover and proper demarcation to allow UNHCR begin the immediate construction of the ten-thousand capacity camp.
.
.
.
Thousands read and trust ARREYB News Reports (www.arreyb.com) daily. Join them and get updates free !!!
Since 2017, we have staked our lives to provide tailor-made news reports to our readers from war zones and hot political rivalries in Cameroon - And we do so for FREE. As a small online media now reaching over 100,000 monthly readers on all our platforms, we have to rely on hiring a small team to help keep you informed The best way to support our online reporting is by considering a measly sum for our team on the ground as little as $1. Now you can make a donation to us below, it only takes one click...