14 Bullets Fired At Camair-co Plane, Separatists Claim Responsibility, Say Plane Carried Soldiers,Weapons
Sunday December 1, 2019, a plane belonging to the Cameroon Airlines Corporation [Camair-Co] was grounded after it was shot at landing by unidentified gunmen.
At least 14 bullets were fired into the cabin which made the plane dangle in the wind.
"No loss in human life was recorded and thanks to the bravery of the Captain, the aircraft was able to land smoothly despite the impact on its fuselage" – the airline said.

This slideshow requires JavaScript.

This slideshow requires JavaScript.
The flight was scheduled to leave Douala for Bamenda in the North West Region, landing at the Bafut airport.
The airline has grounded the plane in order to assess the nature of the impact in consultation with relevant technical authorities.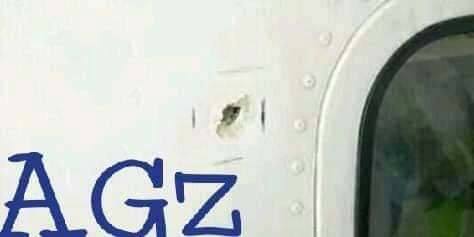 Camair-Co plane shot at Bafut airport
Hours after the incident, Ayaba Cho, a separatist leader and president of the Ambazonian Council has claimed responsible for the attack on the aircraft.
Cho told Reuters that the commercial planes were being used to transport soldiers and weapons and he (as Commander) had warned Cameroon Airlines and its passengers that planes will be shot at if they do not provide flight schedules ahead of time.
"This is war, If we cannot confirm, we will consider all planes coming in as a security risk," he said.
A reckless government reaction to a peaceful strike started by lawyers and teachers demanding reforms in 2016, the Anglophone crisis in Cameroon has developed into a blood bath with daily gun battles.
Secessionists say they must fully establish the independent state of Ambazonia and will only meet for peace talks with the government if the discussion is brokered by a third party such as Switzerland.
On her part, the government has rejected all offers of legitimate mediation in the crisis.
The blood bath of the Cameroon Anglophone crisis has claimed more than two thousand lives, over two hundred villages burnt and more than half a million people displaced.
Photo credits : AGZ
.
.
.
Because You're Here ...
Since 2017, we have staked our lives and time to provide tailor-made news reports to our readers from war zones and hot political rivalries in Cameroon - And we have done so for free.
As a small online media now reaching over 100,000 monthly readers on all our platforms, we have to rely on hiring/paying members to help keep you all informed. We do this because we believe it is the right thing to do at this time in Cameroon.
We have received many comments from supportive readers asking how they can contribute. The best way is simply to support our online reporting by considering a measly sum for our team on the ground as little as $1.
Every contribution, however big or small, is so valuable for our future. Now you can make a donation to us, it only takes one click
Kind regards,
Arrey