China's growing racism, xenophobia and hate against foreigners has replaced news of Coronavirus.
Africans have reacted after a video went viral on social media showing that Africans are being targeted in China. They are being asked to leave hotels and vacate the houses they used to live in.
The Chinese govt says it has defeated the virus and new cases are being brought from outside, so Chinese people are targeting outsiders and racism is rampant.
They are being labeled carriers of the Wuhan virus, especially Africans.
The city of Guangzhou is known as "Little Africa". It has the largest African migrant population in Asia. Earlier this month, fresh cases were detected among Africans living in the city.
Fake news began spreading. One story claimed that 300 thousand Africans are infected in Guangzhou, a claim that was later denied by Chinese state television.
But that has not stopped a wave of racist attacks against the African community. Allegedly, many of them were asked to leave their rented homes — almost overnight.
An apartment complex in Beijing put out a message on its window — "We do not accept foreign friends".
With the first reports of the Covid-19 outbreak, China began accusing the world of racism. China pointed out how its citizens abroad were being targeted.
But authorities are doing little and saying nothing about what's brewing up. The coronavirus might be leaving china and it is being replaced by racism, xenophobia and hate against foreigners.
Early today, Ghana's Ministry of Foreign Affairs and Regional Integration has expressed extreme disappointment and displeasure over these recent happenings in China with regards to the African Community.
Africans in southern China's largest city, Guangzhou say they have become targets of suspicion and have subsequently been subjected to forced evictions. According to them, they have been rendered homeless having been evicted from their homes by landlords and turned away from hotels.
CNN reports that a publication on the People's Government of Guangdong Province's website on April 4 alleged that a Nigerian national with Covid-19 had attacked a Chinese nurse who tried to stop him from leaving an isolation ward at a Guangzhou hospital.
The report was shared widely on social media, and CNN reported that local Africans say a racist backlash against the African community followed.
As at April 7, Guangzhou had reported 111 imported cases, including 25 foreign nationals.
Among them, 9 were from Nigeria, 3 from Angola, 2 from the Democratic Republic of the Congo and 2 from Niger. Fearing a cluster among the African community, Guangzhou authorities upgraded the risk level of Yuexiu and Baiyun, the areas home to the city's two African enclaves, from low to medium, state-owned Global Times reported.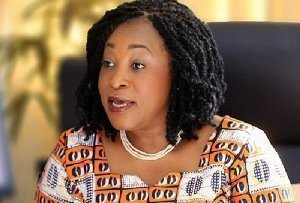 Reacting to the issue in a statement dated April 11, 2020, Foreign Affairs Minister, Shirley Ayorkor Botchwey, described the development as regrettable.
"I have been briefed on the inhumane treatment being meted out to Ghanaians and other African nationals in the People's Republic of China with regards to the COVID-19 outbreak
I regret and highly condemn this act of ill-treatment and racial discrimination", parts of the statement read.
Since 2017, we have staked our lives to provide tailor-made news reports to our readers from war zones and hot political rivalries in Cameroon - And we do so for FREE. As a small online media now reaching over 100,000 monthly readers on all our platforms, we have to rely on hiring a small team to help keep you informed The best way to support our online reporting is by considering a measly sum for our team on the ground as little as $1. Now you can make a donation to us below, it only takes one click...