611
[Photos] PM Dion Ngute Arrives SW, Mayor Ekema Breaks Open Shops To Counter Ghost Town
Today May 14 marks the visit of the prime Minister Joseph Dion Ngute to the south West region and the population is observing a ghost town for fear of the unknown.
To counter this act, Mayor Ekema Patrick of the Buea council has made a street visit with other council officials in a bid to force shop owners and business men to open their shops despite threats from restoration forces.
The mayor according to reports has forced open some shops and asked owners to resume business.
This slideshow requires JavaScript.
This slideshow requires JavaScript.
In the photos below, council officials are seen with a group of military …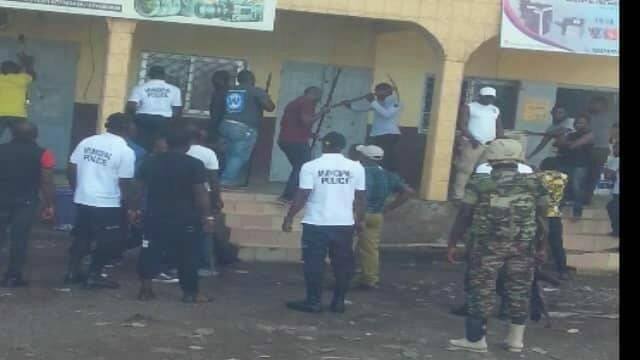 The prime minister is in the South West region and his visit will witness stops to Buea, Limbe and Kumba .
This is a developing story …
.
.
.
Nominations Opened For The Afrikpreneur Awards 2019, click www.abafrikpreneur.com/nomiations to nominate
Because You're Here ...
Since 2017, we have staked our lives and time to provide tailor-made news reports to our readers from war zones and hot political rivalries in Cameroon - And we have done so for free.
As a small online media now reaching over 100,000 monthly readers on all our platforms, we have to rely on hiring/paying members to help keep you all informed. We do this because we believe it is the right thing to do at this time in Cameroon.
We have received many comments from supportive readers asking how they can contribute. The best way is simply to support our online reporting by considering a measly sum for our team on the ground as little as $1.
Every contribution, however big or small, is so valuable for our future. Now you can make a donation to us, it only takes one click
Kind regards,
Arrey