The Presbyterian church of Kumba was sealed yesterday August 30, 2022 by Meme's SDO.
Ntou'ou Ndong chamberlin sealed the church following persistent tensions between worshipers and occult practices.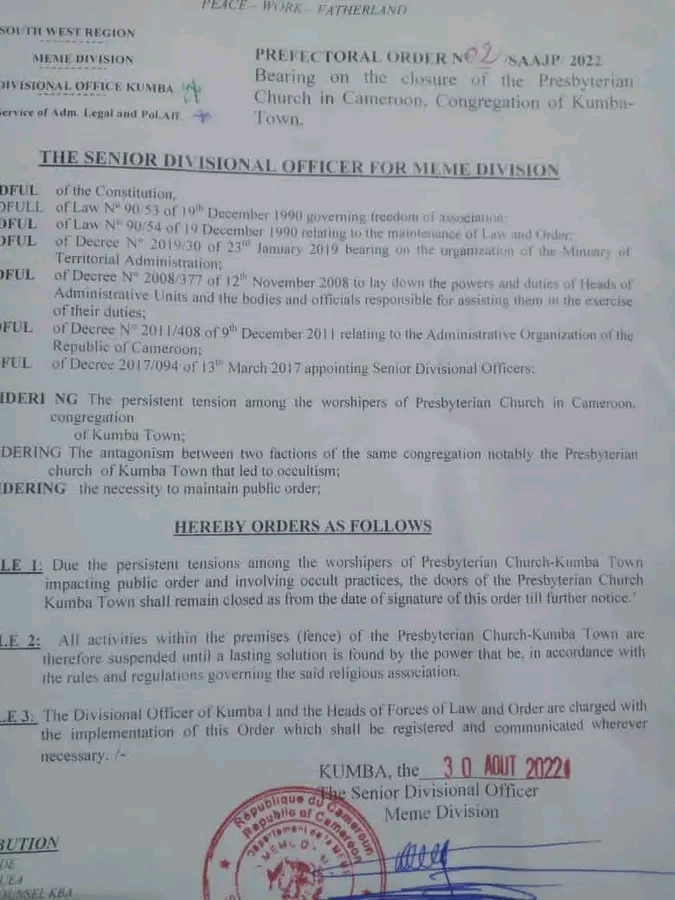 "Due to persistent tension among the worshipers of Presbyterian church Kumba town impacting public order and involving occult practices, the door of the Presbyterian church Kumba town shall remain closed as from signature of this order till further notice " SDO of Meme Division.
Consequently, all activities in the church premises have been suspended. Official authorities and security forces are on their watch as far as this decision is concerned
Since 2017, we have staked our lives to provide tailor-made news reports to our readers from war zones and hot political rivalries in Cameroon - And we do so for FREE. As a small online media now reaching over 100,000 monthly readers on all our platforms, we have to rely on hiring a small team to help keep you informed The best way to support our online reporting is by considering a measly sum for our team on the ground as little as $1. Now you can make a donation to us below, it only takes one click...