By Erwin Ayota in Douala
Ecobank has launched Rafiki, a chatbot that changes customer's experience forever! Rafiki helps customers enjoy Ecobank products from Facebook, solves issues around account enquiries and answers bank-related questions.
Worldwide, Artificial Intelligence(AI) bots have been explored for commercial use in banking through various models. Ecobank has joined the many banks that are already delivering this service. Even more exciting is the fact that they are starting with Africa's favourite digital platform – Facebook.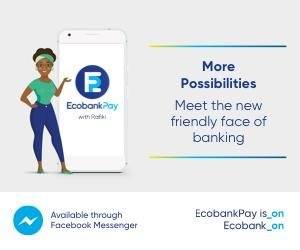 Wondering the size of the opportunity Ecobank has with Rafiki launch?
• Facebook asserts that it has "more than 300,000 business bots and 8 billion messages exchanged between them and users", according to Mark Zuckerberg.
• Quartz Africa cites that Facebook has approximately 170 million Africans using Facebook, "mostly on their phones".
• GMSA predicts close to 500 million smartphones in sub-Saharan Africa by 2020.
Rafiki brings Ecobank digital services including Ecobank Mobile and EcobankPay directly on social media channels, which have become a part of everyday life.
Ecobank now provides various points of contact to access bank services virtually and uses AI to learn customers' behaviour and better serve them at their point of need/contact.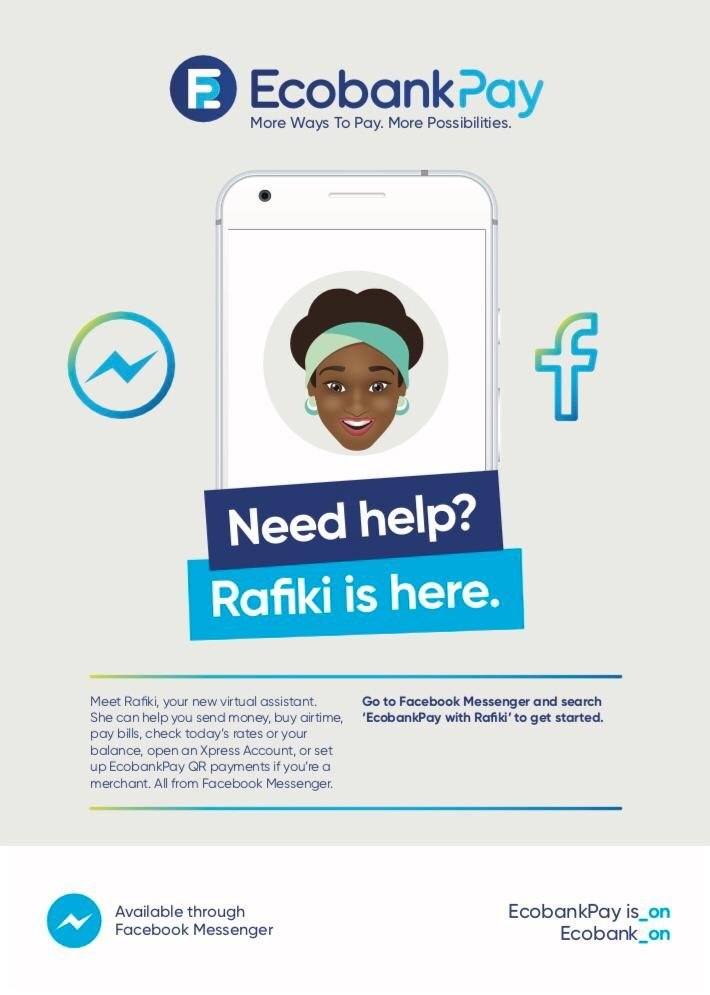 Rafiki is giving consumers another channel through which they can access the Ecobank Mobile App. But unlike all other channels, Rafiki affords the opportunity to delight customers in their natural environment. Right on Facebook via messenger, customers can send money, buy airtime, pay bills, get EcobankPay for their customer payments, open an Ecobank Xpress Account, check balance, today's exchange rates, and customer service support.
No need to log out and launch the app. Ecobank customers will enjoy another one-stop shop for easy and convenient banking services from anywhere, anytime – with more possibilities.
This is a great opportunity for Ecobank to increase activity on the app and further entrench their resolve to support customer's self-serve using the digital channels. Rafiki is also developed as part of Ecobank efforts to reach its increasingly digital-savvy customers in Africa. With the instant 24/7 access to a personal banking chatbot, the Bank's goal is to provide an exceptional customer experience and meet their customers wherever they are.
Search "EcobankPay with Rafiki" on Facebook Messenger now.
Since 2017, we have staked our lives to provide tailor-made news reports to our readers from war zones and hot political rivalries in Cameroon - And we do so for FREE. As a small online media now reaching over 100,000 monthly readers on all our platforms, we have to rely on hiring a small team to help keep you informed The best way to support our online reporting is by considering a measly sum for our team on the ground as little as $1. Now you can make a donation to us below, it only takes one click...