[Brands] Inside Yogo Educational Consult (YEC) – The Educational & Social Consultancy Firm
Yogo Educational Consult, YEC is an educational and social consultancy organisation that promotes quality, reliable educational and social services.
Founded by Mr Bernard Yari Yogo, YEC main center is in Yaoundé ( Nkozoa, Messasi) with other branches in Buea, Limbe and Douala.
The organization seeks to ensure quality and secured opportunities for all Cameroonian youths, with a mission to assist in addressing the challenges faced by students to get placements in home based companies for internships, volunteerism, University studies and admission or scholarships in foreign universities.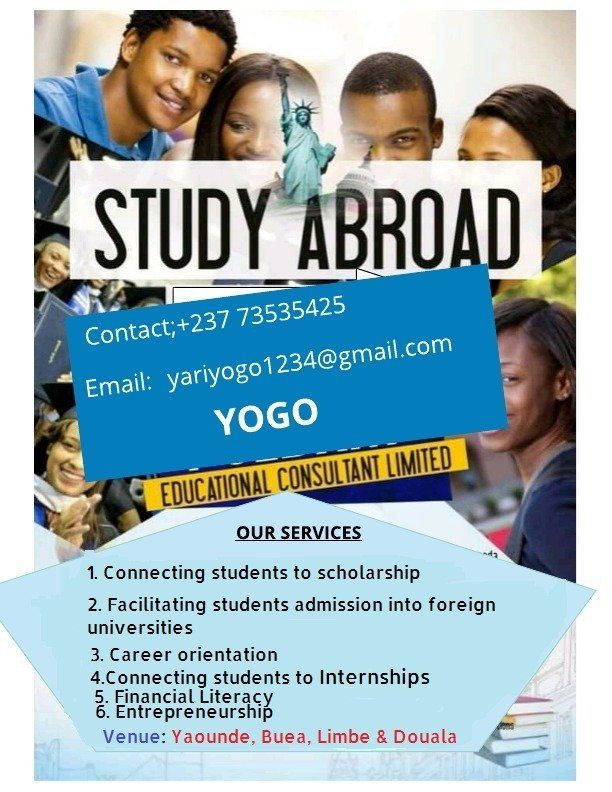 How YEC can help You!
YEC would help you apply for admission, scholarships & grants abroad. Countries like Belgium, Turkey, China, Cyprus, Canada etc.
YEC helps students (management, accounts, finance & banking students) to secure jobs, volunteer opportunities or internships(paid or free) in banks and other financial institutions across Cameroon.
YEC organiseses conferences, seminars and workshops to educate Youths in entrepreneurial skills, work readiness and financial literacy; inspiring them to start their own business, guide and provide knowledge on sound financial decisions as adults.
YEC runs programs with kids as young as 10 to gradually introduce and norture them to essential earnings, Savings, spending, banking & investing practices.
YEC organiseses career development workshops, seminars and conferences.
Make a call to any YEC offices and get served now !!!
Location: Yaoundé (Main Center) Branches: Limbe, Buea & Douala Email: yariyogo1234@gmail.com
Tel.: +237 673 535 425