​As Pressure Mounts, Togo Government Shuts Down Internet Services To Counter Anti- Faure Gnassingbé Protests
The Togolese government has shut down internet access after several protest against president Faure Gnassingbé were scheduled to take place this week.
This was confirmed by Koffi Inoussa Ayibo, president of the Togolese branch of Internet Without Borders who said the NGO found internet connectivity had been cut off on WhatsApp, Facebook, and later all mobile internet services after conducing a series of tests, Quartz reported.
On Twitter, some activists said they were headed to the Ghanaian border to use the country's internet and voice their criticism of Gnassingbé, whose family has ruled the West African nation for 50 years.
Social media activists just like the case of Cameroon picked up a #BringBackOurInternet campaign.
Over the last three weeks, demonstrations have swept through Togo as the opposition party, Le Parti National Panafricain (PNP), called for the return of the 1992 constitution which guarantees multi-party elections and a two-term limit for the head of state.
The terms of the constitution were changed by the President's father, Eyadéma Gnassingbé, to allow him to run for a third term in 2002, three years before his death.
On Aug. 19, the minister of security said two people were killed and 13 injured after security forces unleashed teargas and gunshots on a group of demonstrators in Sokode, about three and a half hours outside the capital Lomé.
The Economic Community of West African States (ECOWAS), chaired by Gnassingbé, is yet to release a statement on the protests.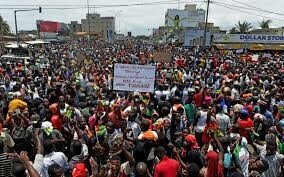 Recently, African leaders have used internet curfews to silence demonstrators considering the importance of social media in these century's activities.
Last year, as many as 11 African countries shut down internet access ahead of elections and anti-government protests: Gabon, Gambia, Ethiopia, Democratic Republic of Congo and Cameroon who imposed a 93 days internet blackout in its Anglophone regions.
The issue has become very common and is a call for concern to dictatorial African leadership.
Stay with ARREYB for updates.
For more exciting and thrilling content, take a ride with us on Social media. Leave a comment below!